Why to choose a 9x12 scrapbook album?
About the 9x12 scrapbook album
In this post, I will show you why a 9x12 scrapbook album is one of the best options for memory keeping. You may be an advanced Project Life documenter or a beginner and searching for the best option to document your everyday life. 9x12 scrapbook album gives you all the options to bring your photos and stories together in one album. Use the Project Life solution-based technique to keep your memories for your family and even for the next generation.
(photo credit: https://aliedwards.com/)
The regular and original size of the 
Project Life album is 12x12 inch
. Crafters often believe this size is too big because it is hard to handle. It can be hard to fill up the huge format because of time lack or because you don't have that many photos and events going on in your life. On the other hand, 
6x8 inch
 or 
6x12 inch scrapbook albums
 can be found small so you may be searching for a solution. Stop here! You found it! Here comes the awesome 
9x12 scrapbook album
. It is big enough but still easy to handle. The various Pocket Pages and Page Protectors give you several layout designs. The pocket scrapbooking system makes it easier for busy people to document the most important moments of life.
How to use a 9x12 scrapbook album?
(photo credit: https://aliedwards.com/)
Pick your album, Pocket Pages and Page Protectors. Note! Chosin only one design of insert can make the documenting process easier and faster as you need less planning ahead. 
​​Plan your pages and spreads. You can do it on a piece of paper drawing a sketch or label the pockets with Post-it Note.
​Select your photos, edit them and print them out. You can print your photos at home or order them online. If you are not familiar with photo editing software choose the regular 4x6 inch (10x15 cm photos size). 
Add your photos into the pockets. It's time for decoration. Use cut apart scrapbook patterned papers or make your own journal and Project Life cards. Decorate the photos with stickers and other embellishments. 
Add journaling. You can print them out with a printer or use a classic typewriter. If you prefer to write your story by hand and make it even more personal with your handwriting. There are great photo-safe markers that allow you to write directly on photos. Or use photo compatible archival ink and stamp your sentiments directly on the photos.
Ali Edwards has a great video tutorial. Check out how she puts together a 9x12 scrapbook album title page and awesome spread.
Which insert to use for 9x12 scrapbook album?
The 9x12 scrapbook album has many Pocket Page and Page Protector insert designs. You can stick with one layout or combine different one. If you use only one design the planning and photo printing process will be way faster and easier. You can also add other sizes of inserts such as 3x6 inch, 6x12 inch or 12x12 inch Pocket Pages. If you used different brands you may repunch the holes on the side with a We R Memory Keeper - Crop-A Dile Punch.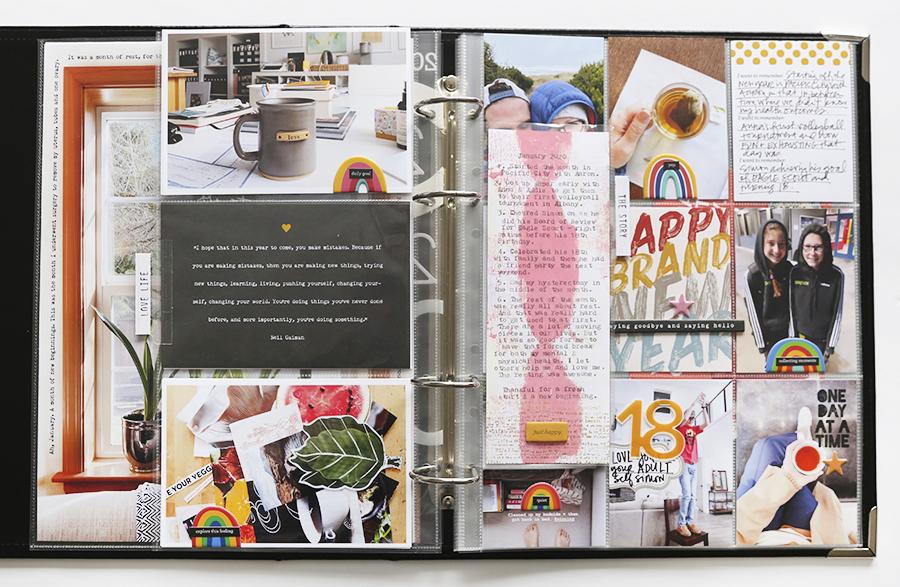 (photo credit: https://aliedwards.com/)
I hope this post will help you choose the right scrapbook album for your next Project Life project. You can buy the 
9x12 album and page protectors
 here in our online store.